"
I want to be with Ava until I die.
"
"
Auggie: I'm sorry your mom and dad aren't together anymore, Ava. I wish there was something I could do for you.
Ava: You're my best friend, Auggie. That's all I need right now.
"

Auggie and Ava is the romantic/friendship pairing of Auggie Matthews and Ava Morgenstern.
Other names
Augva (Aug/gie and A/va)
Auva (Au/ggie a)nd A/va)
Avie (Av/a and Augg/ie)
Mr and Mrs Auggie Doggie Matthews (by Cory)
Moments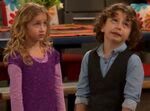 Auggie tries to act older than he is (by claiming to have outgrown Mr. Googly), so as not to embarrass himself in front of Ava.
Auggie introduces Ava to Topanga for the first time. Topanga thought it was so nice to meet Ava and Ava smiled back at her.
Auggie is distraught over the revelation that he and Ava (not seen) might not be a couple forever, like his parents.
Auggie buys Ava costume jewelery, instead of buying Topanga a birthday present.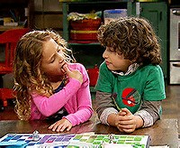 Ava joins Auggie on Cory's Family Game Night.
Auggie calls Ava his woman.
Auggie and Ava are both on the same team together during the family game.
They both try to cheat so they can win the board game.
When Ava try's to cheat she says she's doing it for Auggie.
Ava wants Auggie to buy her a car, a house and a trip to Europe during the games, and he tells her to get of his back.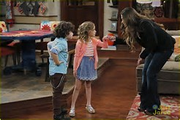 They kiss after Auggie asks Ava to marry him.
Auggie gave Ava Topanga's wedding ring.
Auggie calls Ava his wife.
Auggie and Ava both swear that they will love each other as long as they live.
Auggie comforts Ava when she's jealous of the girl he's with at school.
Ava tells Topanga she's vulnerable today.
Ava eats cake and whipped cream because she's upset. This is what Auggie did when he thought he'd lose Ava.
Ava is jealous of Emma trying to steal Auggie.
She tries to act like Emma in order to keep Auggie.
Auggie asks Topanga why she changed Ava.
Ava tells Auggie that she'd change herself completely if it meant not losing Auggie.
Auggie tells Ava to be herself.
When Ava asks Auggie if he wants two Ava's, Auggie says no.

They (along with Riley) team up to find out who killed Chelsea.
When Auggie is describing Ava, he howls and pants with his tongue out.
When Ava prevents him from feeding Chelsea #105 graham crackers, he realizes that is why Chelsea #104 died.
Auggie supports and comforts Ava after he hears about her tough family issues.
Ava drops a handful of flower petals on Auggie's head.
They walk down the aisle together.
When Ava asks about Mr. Feeny, Auggie replies he might be his grandfather, which Feeny sternly denies.
Ava tells Auggie to take her to Fiji.
Ava sits down with Auggie on Riley's bed.
Auggie seems jealous when Ava tried to impress his new friend from Cuba.
Auggie reluctantly decides to massage Ava's feet.
Auggie says there is no one like Ava.
Auggie is jealous of Ava being with Dewey.
Auggie says I love you to Ava before he disappears as a ghost.
Auggie tells Ava his perspective of Topanga's story.
Auggie is sitting beside Ava during the story.
Auggie tells Ava how he'll miss her and she's the sweetest thing by the Bay window.
Both of them are sincere for their feelings toward each other.
They both have a special moment together by the Bay window.
Similarities and differences
Similarities
They both like Mr. Googly.
Both of their names start with the letter A.
They both are in the same class.
They live in the same building as each other.
They both like graham crackers.
Differences
Auggie is male, but Ava is female.
Auggie is seven, while Ava is eight.
Trivia
Ava is the same age as August Maturo, Auggie's actor.
Auggie says they have been married for 52 years.
On multiple occasions, Ava affectionately refers to Auggie as "Augie Doggie", which was also the name of a character from a 1960s Hanna-Barbera cartoon.
Gallery
| | |
| --- | --- |
| | The image gallery for Auggie and Ava may be viewed here. |
Ad blocker interference detected!
Wikia is a free-to-use site that makes money from advertising. We have a modified experience for viewers using ad blockers

Wikia is not accessible if you've made further modifications. Remove the custom ad blocker rule(s) and the page will load as expected.