"
You are going to change the world with your brilliant mind.
"
"
Topanga: Riley was my reason for being.
Auggie: Am I not enough for you?
Topanga: No.
Auggie: That's honest.
"

Auggie and Topanga is the mother-son relationship between Auggie Matthews and Topanga Matthews in Girl Meets World.
Other names
Aupanga (Au/ggie and To/panga)
Toggie (To/panga and Au/ggie)
Moments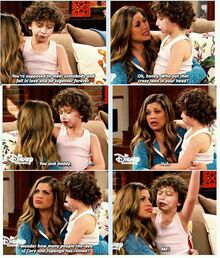 Topanga colored with Auggie, wanting him to never grow up.
When Auggie's friend wanted to take his toy, Topanga stopped her.
Topanga did not like Auggie's friend. (Ava)
Topanga does not want Auggie to stop liking Mr. Googley.
Auggie helps Topanga prepare the family dinner for Christmas.
Auggie apolgizes to Topanga after Ava moves her back to the start.
Topanga asks how 1st grade was for Auggie.
Topanga is worried about Auggie growing up too fast.
As a ghost, Auggie says "I love you too, Mom" to Topanga.
Auggie says Topanga is the best mother to him.
Auggie briefly helps Topanga explain why Gift of the Magi is one of the most beautiful stories ever told.
Topanga has Auggie play the main role in the play for Maya.
Auggie is upset when Topanga tells him they'll possibly leaving NY for her new job.
Topanga decides to stay to make Auggie happy.
Similarities and Differences
Similarities
Both have green eyes.
They are both very smart.
Differences
Auggie is male, while Topanga is a female.
Auggie has curly hair, while Topanga has wavy hair.
Auggie is a child, while Topanga is an adult.
Auggie was born and raised in New York, while Topanga was born and raised in Philadelphia.
Trivia
Gallery
| | |
| --- | --- |
| | The image gallery for Auggie and Topanga may be viewed here. |
References
Ad blocker interference detected!
Wikia is a free-to-use site that makes money from advertising. We have a modified experience for viewers using ad blockers

Wikia is not accessible if you've made further modifications. Remove the custom ad blocker rule(s) and the page will load as expected.