Brenda is one of Riley Matthews' classmates and a student of Cory Matthews. She appears in the episodes Girl Meets World, Girl Meets the Secret of Life, and Girl Meets STEM.
She is portrayed by Corey Fogelmanis, who also portrays Farkle Minkus.
Information
Brenda first appears in the season 1 episode "Girl Meets World" when Riley says she always pictured Brenda ending up as the girlfriend of Farkle. She appears again in the season 2 episode "Girl Meets the Secret of Life", when Zay is looking for a place to sit, and the sight of her waving at him (which he calls "unusual") discourages him from claiming a back row seat.
Appearances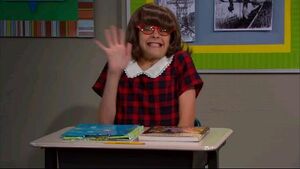 Trivia
She gained her nickname, Back-of-the-class Brenda, because she sits at the back of the class.
She appears to be an '80s girl, due to her large red glasses and '80s-looking strawberry dress.
Her voice has yet to be heard.
She is the only girl that admits liking science.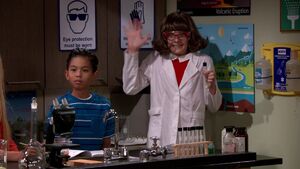 Ad blocker interference detected!
Wikia is a free-to-use site that makes money from advertising. We have a modified experience for viewers using ad blockers

Wikia is not accessible if you've made further modifications. Remove the custom ad blocker rule(s) and the page will load as expected.