Cheryl Texiera is an American actress. She portrays Katy Hart in Girl Meets World.
Biography
Cheryl Texiera is an actress/writer/producer most known for her roles on It's Always Sunny In Philadelphia (2005), Girl Meets World (2014), and Bachelorette Weekend (2015). In 2012, she began creating her own content and opened the production company: CrazyChic Productions. The web series she created and starred in: Confessions of a Bitter(sweet) Actress (2013) was nominated for a 2014 Independent Television Award. Originally from Mahopac, New York and one of five children, Cheryl loves living as bicoastal as possible and spending time with her family.
Filmography
To be added.
Trivia
She was born and raised in Mahopac, New York.
She is the second youngest of five children. She has two brothers and two sisters.
She is the only actor in the family.
She studied at NYU's Tisch School of the Arts Program (Atlantic Theatre Company).
She has BA Degree in Psychology from Fordham University.
She choreographed and Performed in the Los Angeles Premiere of "Debbie Does Dallas: The Musical".
She was in the Top 25 Females on FOX's "So You Think You Can Dance" (Season One).
She won a freestyle hip hop competition on MTV.
She appeared as a "guest star" on Disney Channel show Kickin' It, season 2 epsiode 22, Kickin' It On Our Own Part 1
Gallery
| | |
| --- | --- |
| | The image gallery for Cheryl Texiera may be viewed here. |
Videos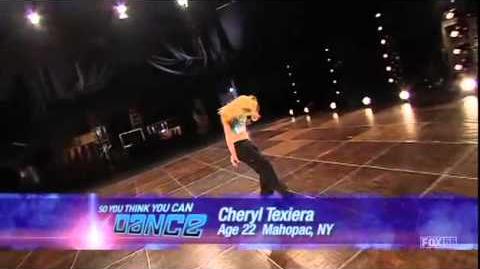 External links
Ad blocker interference detected!
Wikia is a free-to-use site that makes money from advertising. We have a modified experience for viewers using ad blockers

Wikia is not accessible if you've made further modifications. Remove the custom ad blocker rule(s) and the page will load as expected.