"
Tonight's gonna be legendary, man. Let's just see what flows...
"

—Ginsburg
Ginsburg is a character in Girl Meets World. He is Farkle's great grandfather and Stuart Minkus' grandfather or possibility his grandfather in-law. it is not specified whether Ginsburg is his first name or surname.
Appearance
Ginsburg had brown floppy hair that covered his forehead, with a scraggly Beatnik goatee. He had blue eyes, and wore black horn-rimmed glasses. He dressed in typical hippy garb of the era, a black turtleneck with a brown striped vest, leather sandals, and faded multicolored pants, topped by a black béret
Personality
Ginsburg was an open friendly person who was rarely without his camera, and was eager to snap pictures at every opportunity. However, Ginsburg, himself, avoided being photographed, which was a peculiar habit for a stage performer, as he was wont to recite his own poems at Café Hey, between announcing the other performing acts.
History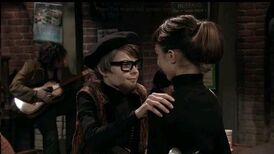 On December 14, 1961, Ginsburg made the acquaintance of 
Rosie McGee
 as she ventured into his Greenwich Village coffee house, Café Hey. As soon as he  read her "vibe," they bonded quickly. After Ginsburg perormed his poem for the crowd, Rosie allowed him to look at her journal of observations, which he found deep.  When Rosie stated that she was looking for new friends, he outlined her choices: left with (future musical legends) Bob Dylan and Joan Baez, or right with a young girl with long blonde hair sitting by herself. Rosie chose the girl whose name Ginsburg would shortly call out,
May Clutterbucket
, as she was set to perform. The next singer he called, Merlin Scoggins, a cowboy dressed in black, briefly sat with Rosie and May after he finished his song. By some unknown impulse, Ginsburg felt compelled to reach for his camera and capture

the meeting of the Observer, the Singer, and the Mystery Man for posterity, commenting that the moment had to be "worth something to somebody one day." It would take over fifty years, but that person would in fact, be his own great grandson, Farkle Minkus, and he found it as a priceless treasure to share with his own friends, who by some cosmic coincidence, happened to be the great grandchildren of Rosie, May, and Merlin.
Karma 
By Ginsburg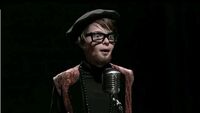 Black. White. Green. Tan.

No one listen to the man.

Freedom is the only plan.

Free to be who you am.

Can't you see?

That  you... are... me?

Karma.

Trivia
He made up the word "immedia-tois" upon meeting Rosie McGee.
He was an avid photographer.
His Beat Poetry was popular with the Café Hey crowd.
He wore a long black beaded necklace. 
He was acquainted with Bob Dylan and Joan Baez.
Ginsberg is based on real life beat poet "Allen Ginsberg," author of the 1956 book "Howl."
Gallery
| | |
| --- | --- |
| | The image gallery for Ginsburg may be viewed here. |