"
It's one of a kind, and so are you.
"
Girl Meets Demolition, also known as Girl Meets What the What, is a special episode set between season 1 and season 2 of Girl Meets World.[1] It aired on April 17, 2015 to 2.1 million viewers.
Overview
Riley and Maya meet Aubrey, a salesgirl for the vintage clothing store Demolition, who manipulates them into using Topanga's credit card for an expensive purchase.[2]
Plot
At the bay window, Riley and Maya just sit there bored out of their minds trying to figure out what to do, and how to get money. Topanga comes in and implores the girls to go out and do something. Riley asks Topanga for a Bat Mitzvah so she could get money, but Topanga reminds them that money needs to be earned, which gives Maya an idea…
The girls go to Demolition (the store mentioned in Girl Meets Brother), to sell their clothes, it's here we meet, Aubrey MacAvoy (played by Debby Ryan), who, when she sees the pile of clothes the girls bring in, immediately plans her scam.
Maya plans their strategy on how much money they would get. While they're doing that, Aubrey tricks a girl into selling her dress to her, and gives her $12 in return. Aubrey calls the girls to the counter, and offers $38 for their clothes, but Maya asks for triple the offer, but Riley ruins it by asking for double. Aubrey stands her ground at $38, but Maya tells her to keep this battle between the two of them. Aubrey takes a liking to Riley as she reminded her of a friend she used to have. Aubrey decides to give them $42 and throws in the dress from earlier. Maya finds the dress hideous, so Aubrey decides to talk Riley into buying it by saying the dress was this amazing color called "Imaginatia". Maya hopes she doesn't fall for it, but being a cloudcuckoolander, Riley asks Aubrey of the store takes credit, Maya begs her to stop, but Aubrey decides to give her the dress for $50, but raises the price higher and higher every second, until $300. Riley buys the dress along with a pair of shoes.
At the apartment, the girls lament their current situation, and decide that Riley's parents can never find out about this. Cory eventually finds out about this, though begging from the girls, he goes to demolition to get their money and their clothes back.
The trio arrive at Demolition, and Cory goes over the their strategy, he does the talking, and the girls do nothing. Cory walks up to confront Aubrey, but she sweet talks him into thinking he looks like Justin Timberlake. Cory falls for her scam and buys extremely tight clothing
At the apartment, the girls (with Riley wearing the dress) and Cory in tight clothing, lamenting over their failure, Riley knows Topanga's going to find out, but Cory assures them that she'll never know. Topanga eventually finds out and berates the trio for their spending, and her jaw drops when she found out how much all three of them spent (the $500 plus the $1,200 Cory spent, all together they spent $1,700).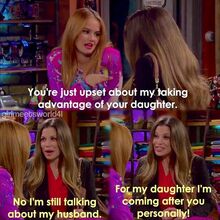 Later on, Topanga goes to Demolition, to try and get the money back. The two briefly match wits with one another, until Topanga explains that she has to let give Riley and Cory a refund for their purchases by using the Consumer Protection Penal Code. It almost looks like Topanga beat her, but Aubrey shows her a small sign by the register stating that there are no refunds for used products, Topanga argues that the sign is too small and can be easily missed. Aubrey shows her another sign alerting customers to the smaller sign. Aubrey shows off her knowledge of the law, by explaining the Merchant Prevention Penal Code. Aubrey goes to fold some clothes, Topanga goes to join her and tells she could be a good lawyer if she wasn't terrible. Aubrey tells her that she's going to own the store someday and would train Maya to be like her. Topanga tells Aubrey Maya will never be like her since she has a good influence in Riley, and asks to speak to her manager, but Aubrey decides to bring the owners, who also happens to be her parents; she explains Topanga's reason for wanting her money back, but Aubrey's father explains that when wide-eyed girls come in wanting a quick buck by selling clothes, they buy the girls' clothes for cheap, and sell their clothes at ridiculous prices, which just dumbfounds Topanga.
Later on, the girls sit at the window to reflect on their mistake. Maya asks Riley if she let her down, but Riley assures her that she'd never let her down. Maya then laments on her being a terrible bad influence on Riley, but Riley once again assures her that she's a great bad influence. While Riley comforts Maya, she comes up with an idea to get rid of the dress and shoes, and get their old clothes and money back.
Back at Demolition, Aubrey receive's a phone call from a very familiar voice. The lady asks for the dress claiming that it's an heirloom, and is willing to pay $2,500 for it; Aubrey asks for $4,000 dollars and some time to get. The Voice accepts the deal, and will come by to pick it up at 5:00. After she hangs up, Aubrey looks for the receipt and calls The Matthews'.
Later on, The Matthews' and Maya come in, and are shocked that Aubrey changed her mind. Riley gives her the dress, the shoes, and all of Cory's clothes (except the shirt, it's stuck on him), also asks for her and Maya's clothes. Aubrey protests against this, but while she argues, we find out that the mystery voice was Evelyn Rand. Aubrey recognizes her and knows that she is a billionaire. Evelyn asks for the dress, and Aubrey immediately cancels the charges, and orders the girls to grab their clothes and leave. While the girls get their clothes, Aubrey tries to pull a fast one and ask for $5,000, Evelyn laughs at the offer, and tells Riley that she was right about Aubrey. This shocks both Aubrey and Maya. Maya compliments Riley on her scam, but Riley tells her that it isn't over yet. Evelyn demands to speak to the owners, they come out and they both recognize Evelyn. Eveyln asks how much they like for the entire store, Aubrey tells her that they aren't interested, until they see how much money she is willing to give them; they're immediately ready to give up the store, which devastates Aubrey. This turned out to be a ruse to show Aubrey the error of her ways. Evelyn explains that no one's going to buy things from the store if they are scamming kids, and encourages her to be better than she is. And as she leaves, Evelyn tells the girls to keep being who they are. While the girls pat themselves on the back, Maya notices a toy astronaut on horse, and asks Aubrey how much it costs, to make up for ripping them and Cory off, she gives to them, for free.
Back at the apartment, while the girls and Topanga fold their clothes, Aubrey comes over, and asks Topanga if she really thinks she can be a good lawyer, Topanga tells her yes, but need good influences. Riley and Maya volunteer, and ladies head to the bay window. As the ladies walk off, Cory asks Auggie if he looked great in those clothes, and Auggie annoyingly answers yes, which makes him smile.
Cast
Main cast
Special guest star
Guest cast
Absent cast
Quotes
"
Have I ever let you down?
"

—Maya to Riley
"
No, Peaches. How could you ever let me down?
"

—Riley to Maya
"
What kind of bad influence am I to you if I let another bad influence be a better bad influence than me in your eyes.
"

—Maya to Riley
"
Hey, I will never have a better bad influence than you.
"

—Riley to Maya
"
You will always be my favorite chump.
"

—Maya to Riley
"
Thanks.
"

—Riley to Maya
"
Will I still be your favorite even if I wasn't a chump?
"

—Riley to Maya
"
You will always be my favorite.
"

—Maya to Riley
Trivia
Peyton Meyer (Lucas Friar) and Corey Fogelmanis (Farkle Minkus) do not appear in this special.
Evelyn Rand's third appearance.
First appearance of the Demolition Store initially mentioned in Girl Meets Brother.
Debby Ryan, star of Jessie, guest stars in this episode as Aubrey Macavoy.
First Girl Meets World episode without Farkle.
Fifth Girl Meets World episode without Lucas, the others being Girl Meets Popular, Girl Meets Brother, Girl Meets Home for the Holidays, and Girl Meets Farkle's Choice.
Several allusions are made of former Disney Mouseketeer, Justin Timberlake.
This was the first episode filmed in 2015. 
First appearance of Yindra, who will become a background student in Cory's History class. The writers confirm she is not related to Evelyn Rand.
Topanga mentions her law firm is now known as Elliot, Brown, & Montgomery and that she is a (junior) partner.
First indication of Cory owning a car, which will be revealed to be a Volvo.
This episode is not a part of season 1 or 2, as confirmed by August. It is just an extra episode set between the two seasons as a part of Disney Channels' "What the What?" weekend.
Both Ben Savage and Danielle Fishel are now credited as co-producers.
William Russ is now listed among the production staff.
The GMW Writers state that the astronaut on the horse is symbolic of Riley and Maya's friendship as one tends to float away (Riley) while the other is set firmly on the ground (Maya), Yet they can also be interpreted to indicate the guys in their lives as well, with the astronaut representing science (Farkle) and the horse representing nature (Lucas).
Disney Channel named this episode "Girl Meets What The What" and the GMW writers named this "Girl Meets Demolition"
This is the first episode of GMW to use the word "sexy"- used by Cory describing how he looks in his outfit.
This is the first time in over 7 years a live action G-rated Disney Channel show uses the word "sexy".
On Netflix, this episode is credited as Season 2, Episode 1.
International premieres
August 22, 2015 (Latin America, Brazil)
September 30, 2015 (Spain)
October 2, 2015 (Portugal)
October 21, 2015 (Bulgaria)
October 24, 2015 (Hungary)
November 5, 2015 (Greece)
November 8, 2015 (Poland)
November 21, 2015 (Romania)
December 14, 2015 (Israel)
October 4, 2016 (Philippines)
Gallery
| | |
| --- | --- |
| | The image gallery for Girl Meets Demolition may be viewed here. |
Transcript
| | |
| --- | --- |
| | To view the Girl Meets Demolition transcript, click here. |
Videos
References
You've found the next page in the Matthews' Summer Vacation Scavenger Hunt! Here is your next clue:




Farkle, look. Mom just texted me, and we have to go back to the hotel so we can leave. We've only been here a few days and it's already almost over! I wish I could have spent more time with all of my friends on the beach.

Learn more about Matthews Summer Vacation.
We're currently on the LAST DAY! You can go to the starting page of the entire hunt here!