"
I don't want to be a dictator anymore. Dictators don't have friends.
"
Girl Meets Friendship is the fourteenth episode in season 1 of Girl Meets World.[1] It aired on November 21, 2014 to 2.2 million viewers.[2]
Overview
When Cory teaches his class about various forms of government, Lucas, Riley, and Farkle decide to run against each other for seventh grade class president. However, things quickly get out of hand when a big fight erupts on who should become president.
Plot
Cory decides that this year, instead of making the students run for class president, they should get to run for any kind of government they want. Farkle immediately chooses to run for class dictator, because he wants to be able to do whatever he wants. Riley sees an opportunity to have her princess-dream come true, and Lucas keeps it simple and runs for class president.
At home, Topanga is having problems getting Auggie to sleep. While she and Cory argue over who should spend the rest of the night getting him to bed, he falls asleep on the both of them on the couch. When Topanga gets up to go to bed, Auggie wakes up too. Cory decides to let him stay up and watch the game, which causes him to be exhausted the next day.
At school, the campaign turns dirty when Farkle attacks Riley for having a horse unicorn in her bedroom. Sensing a war coming on, Lucas tells Riley and Maya not to attack Farkle, and they promise. Instead, Maya decides they should go after Lucas. Riley doesn't want to, but Maya is sure there is dirt to be found on Lucas, and she decides to find it.
Back at home, Topanga has fallen asleep on the couch, exhausted because Auggie still won't sleep. When Cory comes and sits down with them on the couch, Auggie again falls asleep between them, but he wakes up when Cory goes to bed.
The next day, the Riley and Maya overhear a phone conversation between Lucas and his father. Lucas is saying that he wants to come back to Texas to visit his friends on the weekend, but his father is telling him he can't. Lucas says that Texas is his real home, and that all his friends in New York are currently trying to destroy each other. He tells his father he never wanted to go to John Quincy Adams in the first place, but then notices Riley and Maya listening, and hangs up. He asks if the girls will be using what they heard against him, and Maya quickly reassures him that she made a recording of the conversation on her phone, and will definitely be using it.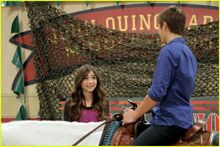 The following day is election day, and just as Cory is about to announce the winner, Riley and Maya enter the room and tell him they have one last very important campaign video he has to show. He objects, but they say it's about Lucas, and that it's very important. Cory asks Lucas if it's okay, and with a disappointed look on his face, Lucas agrees. Instead of the attack Lucas thought it was going to be, the video shows two of his friends from Texas endorsing Lucas for president and Riley and Maya as his friends. Lucas is touched, and admits that New York is becoming his home.
As the new class president, Lucas appoints Farkle as his vice president, and Maya as his secretary of state. Riley asks him what she is to him, and Lucas gets her horse from earlier, climbs up on it, helps Riley on and tells her: "To me, you're a princess".
In the final scene, Auggie finally tells Topanga that the reason he isn't sleeping is because he wants both his parents and not just one at a time. Cory, Topanga, and Riley all sit down with him, and he finally sleeps.
Cast
Main cast
Guest cast
Quotes
Farkle: Farkle Nation!
Classmates: FARKLE NATION!
Farkle: Holy moly, I got me an army!

—
Farkle
, trying to gain votes for his "Nation"
Lucas: Farkle, I'm naming you my Vice President.
Cory: Are you sure?
Farkle: (Looks really happy) You mean if something happens to you I become President?
Lucas: Yes.
Farkle: (Happily shakes Lucas's hand) I accept!

—
Lucas
gives Farkle a job, but for Lucas it might lead to him losing his job
Trivia
This marks the return of Auggie Matthews after his two-episode absence.
In the Boy Meets World episode "Father Knows Less," Cory and his father, Alan, also stayed up late to watch a Phillies game.
In the Boy Meets World episode "By Hook Or By Crook," Cory also feigns falling asleep on Topanga.
As yet, the only appearance of "The Rebel," Brandon.
In the Boy Meets World episode "I Am Not A Crook", Cory, Shawn and Topanga also run for 7th grade Class President, just like Riley, Lucas and Farkle.
Lucas often flies back to Texas on the weekends.
Cory uses his "Ferp" gesture signaling silence for a second time.
Cory's called a "Lunkhead" (by Maya) and "Sheep-Head" (by Farkle).
Riley's princess head wear formerly belonged to Topanga.
Farkle has an Uncle Morty "in the T-Shirt business."
Farkle adds a "Dictator Farkle" panel to Mr. Matthews' nameplate.
Farkle dubs Sarah and Darby his "New Farkle Nation Dictatorettes."
Lucas becomes seventh grade class president, with Farkle as his vice president.
Sarah Carpenter is credited as "Sarah" for the first time.
Disney has created a Farkle Nation  website.
In real life, Dylan Orlando  is the name of a close friend of Peyton Meyer
Charlie Gardner claims to have been present in the gym when Lucas and Riley ride the horse.
This episode features Ricky Garcia, who later joined the main cast of Best Friends Whenever.
International premieres
November 28, 2014 (Canada)
December 5, 2014 (UK & Ireland)
January 25, 2015 (Latin America, Brazil)
January 27, 2015 (Australia)
March 26, 2015 (Israel)
April 11, 2015 (Romania, Bulgaria)
April 12, 2015 (Italy)
May 8, 2015 (Spain, Portugal)
May 27, 2015 (Germany)
September 9, 2015 (Poland)
August 2, 2016 (Philippines)
Gallery
| | |
| --- | --- |
| | The image gallery for Girl Meets Friendship may be viewed here. |
Transcript
| | |
| --- | --- |
| | To view the Girl Meets Friendship transcript, click here. |
Videos
References