"
Because you like people, and that gets in my way.
"

—Harrison Miller explaining why

Topanga

is not on the Svorski case
Harrison Miller is a character in Girl Meets World and is portrayed by Willie Garson.
Information
Harrison Miller is a senior partner of the prestigious law firm of
Elliot, Brown, & Montgomery
. When a national frozen yogurt chain targeted 
Svorski's Bakery
 as the ideal place for a new franchise, Miller utilized his keen, yet ruthless, legal mind to discover the contractual loopholes which would allow the property owners to triple the rent, thereby forcing the proprietress, 
Mrs. Svorski
 to vacate the business location she had been using for forty years. Yet, 
 unbeknowst to Miller, the establishment was the favorite pastry shop of 
Auggie Matthews
, the son of one of his firm's most capable and successful litigators, 
Topanga.
  Thus, he was extremely surprised to see his colleague enter the premises dressed as a "hippie,"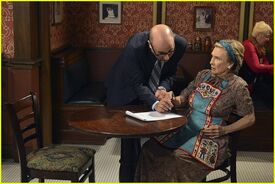 with her similarly garbed young son in tow.  He listened to Topanga's impassioned plea to save the bakery, but then merely reminded "Aquarius" that she worked for him, before leaving.  On the final day of negotiations, just as he pressed a pen in Mrs. Svorski's hand, a more recognizable Topanga returned, bringing along her husband,
Cory
, as well as their son.  She declared in an ultimatum that unless their firm  agreed to grant
her an advance on her salary equal to the amount necessary to keep the bakery in its current spot, Topanga would leave and join a competing legal firm and destroy them.  Although Miller knew it was not an idle threat, he also realized that by the time she could made good on her plan, the deal would be finalized, and Svorski's would be long gone.  However, Miller also recognized that Topanga Matthews was a unique, absolutely irreplaceable, asset to his firm, and that personally, he was rather fond of her (as indicated by the affectionate pat on her elbow, to indicate that there were no bad feelings between them).  Accepting a gracious defeat, Miller  reluctantly left to arrange the necessary details for Topanga's demands, which would allow the Matthews to become part owners, in an otherwise unchanged, Svorski's Bakery.
Appearances
Trivia
Miller enjoys being considered mean.
Gallery
| | |
| --- | --- |
| | The image gallery for Harrison Miller may be viewed here. |
Ad blocker interference detected!
Wikia is a free-to-use site that makes money from advertising. We have a modified experience for viewers using ad blockers

Wikia is not accessible if you've made further modifications. Remove the custom ad blocker rule(s) and the page will load as expected.