"
Here's what's real: People are wet and cold out there.
And they need something to keep them safe from the storm,
and we know how to give it to them.
"

—Riley outlining the concept

The Matthews and Hart Umbrella Foundation is a non-profit organization designed to ensure that Manhattan subway passengers are granted free access to umbrellas when required by extreme weather conditions.
History
Having just been embarrassing dismissed by Farkle in their mock business project, Riley and Maya encounter the lady they know as "Crazy Hat" at the Bleecker Street Station.  After advising them to pay attention to their own surroundings, the older woman leaves, but not before Riley hands over the dollar a passerby had previously left with them.  The girls are still there upon her  return, and the time they have spent watching the travails of their fellow travelers has given Riley an idea.
The next day in History class, Riley and Maya describe the entire concept. Donated umbrellas are to be picked up from a box in one subway station, and after being used, are left behind in a similar box at another station.  Farkle scoffs at the entire notion, pointing out the lack of profitability in the venture.  The girls acknowledge that fact, but state that people are more important than profits.  That maxim is emphasized as Crazy Hat enters the classroom, whom Mr. Matthews identifies as Evelyn Rand, Chairperson of Rand Industries. Having gleaned from their conversation the day before, exactly where Riley's observations would ultimately lead, she gives the girls their first umbrella, and bestows upon her "Two Dollies" a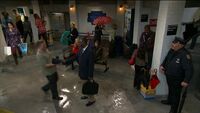 generous check to make the Matthews and Hart Umbrella Foundation a tangible reality.  Within a few days, donation boxes have been constructed and filled with umbrellas.  They are debuted at Bleecker Street, which serves as the pilot  station for the program, which appears to be an unqualified success to the waves of grateful subway passengers enjoying the benefits.
Appearances
Trivia
Riley and Maya had no inkling that their idea could actually come into existence.
Lucas was briefly part of the organization, but was instantly fired by Maya.
Maya hopes the concept will spread throughout New York City.
Ad blocker interference detected!
Wikia is a free-to-use site that makes money from advertising. We have a modified experience for viewers using ad blockers

Wikia is not accessible if you've made further modifications. Remove the custom ad blocker rule(s) and the page will load as expected.